Career Development Program 2017-2018

The LYFE Foundation Career Development Program ***MILITARY Career Training***
April 14, 2018 @ 9:30 am

-

12:00 pm

FREE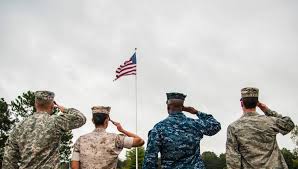 bIf you're considering a career in the magnificent world of military service, you do not want to miss this opportunity to meet and train with real military personnel. A military is a force authorized to use lethal or deadly force and weapons to support the interests of the state and some or all of its citizens. It typically consists of an Army, Navy, Air Force, and in certain countries the Marines and Coast Guard. The last two uniformed services are The U.S. Public Health Service and The National Oceanic and Atmospheric Administration. The task of the military is usually defined as defense of the state, and its citizens, and the prosecution of war against another state. The military may also have additional sanctioned and non-sanctioned functions within a society, including, the promotion of a political agenda, protecting corporate economic interests, internal population control, construction, emergency services, social ceremonies, and guarding important areas. The military may also function as a discrete subculture within a larger civil society, through the development of separate infrastructures, which may include housing, schools, utilities, logistics, health and medical, law, food production, finance and banking. In other words the being in te military is not just a job it can be a career!
Come and do a day of training with us to include boot camp, choosing a great career in the military, money for school, and how to get the retirement you deserve. Seats are extremely limited, SO SIGN UP TODAY!!
FOR YOUTH AND YOUNG ADULTS AGES 14-29
REGISTER TODAY AT:   https://www.eventbrite.com/e/the-lyfe-foundation-career-development-program-military-career-training-tickets-44860738677
LYFEFOUNDATION.ORG
Career Development Program Schedule
OCTOBER 21, 2107 (11am-2pm)
LYFE Foundation Networking Event. Paradise Valley AZ
 NOVEMBER 18, 2017
Medical Career Training, AZ COMMON GROUND
(Doctors, Nurses, Health Techs)
DECEMBER 1, 2017 (FRIDAY)
Engineering Career Training, INTEL FACTORY
(Hosted by "INTEL" makers of Pentium Processors)
JANUARY 20, 2018
Business Career Training, AZ COMMOND GROUND
(Million Dollar Contract Negotiations, Entrepreneurship, Financial Management)
February 24, 2018
                                              Education Career Training
(Teaching the Next generation of Geniuses)
MARCH 17, 2018
Professional Sports Career Training
(H.S., College, Professional Athlete and Beyond…)
APRIL 21, 2018
Live Career Conference
MAY 19, 2018
Military Career Training
(Recruitment, Your First Day of Bootcamp, Careers and Retirement)
JUNE 16, 2018
Trade Schools Career Training
(I was meant for something greater…I Just Don't Know What!
Cosmetology, Real Estate, Technicians, Event Planners)
JULY 21, 2018
Environmental/Social Services Career Training
 (Helping Others Build/Rebuild Their Lives)
AUGUST 18, 2018
Legal Career Training
(Lawyers, Police Officers, Probation Officers)
SEPTEMBER 15, 2018
Entertainment/Music and Arts Career Training
(How to Do What You LOVE and Still Pay Your Bills)
OCTOBER 20, 2018
Live Career Conference